PhoneCallTrack™ is a brainchild of a team of developers with over 90 years of combined experience in Telecom, Telephony Applications, IVR Architecture Design, Software and Web Development.
We utilized latest technologies and partnered with industry leading telecom carriers, datacenters, hardware and software vendors to build a robust State of the Art Call Tracking Platform capable of handling tens of thousands of calls per hour with features not available anywhere else at any price.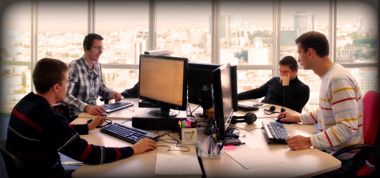 Over the past 23 years we have developed numerous IVR Systems and Services for various vertical markets as well as unique Custom IVR Applications.
Our INFOVOX™ IVR Systems have been deployed on 3 continents providing interactive telephony services in multiple languages.
Our clients list includes Automotive Dealerships and Auto Dealer Groups, Real Estate Firms, Property Management Companies, FSBO Service Bureaus, Advertising Agencies, Marketing Companies, National Public Fax Providers.
In 1992 we introduced the first Real Estate Assistant™ - a Property Phone Hotline to assist Real Estate Companies in providing instant information about properties for sale or rent.
In 2001 we launched hosted PhoneLeads™ Credit Hotline Service that was specifically designed for Auto Dealers and Lending Institutions to pre-qualify consumers for a car or home loan, save processing time and capture leads from their advertising campaigns.
In the past few years we added VoiceBlast™ - Voice Broadcasting Service and MailTrack™ Service that allows to confirm the identity of each direct mail recipient and obtain detailed information about the prospect with a click of a button.
One of our latest projects was an Interactive Phone Application for a luxury car manufacturer to answer and process thousands of simultaneous calls from their National TV campaign advertising a new car model.
Our Philosophy
Our motto is: Perfection or Nothing℠
If we don't think that we can design a better, slicker, faster application than anything else out there - we simply won't do it.
Our clients and their specific needs have always been our #1 priority.
Every System or Service is designed from ground up with a few simple principles:
It has to be State of the Art Technology with features not available anywhere else.
It has to be easy to use and it has to be exceptionally reliable.
We understand that for our clients phone communication is the lifeblood of their business and that's why we take very seriously when it comes to reliability, customer service and support.
We utilize multiple levels of redundancy and continuously monitor operation of our network.
We don't have bankers hours - if you have a problem, rest assured that we'll do everything in our power to assist you ASAP whether it happens during business hours or on a holiday weekend.
Companies That Have Trusted Us
Below is a small list of Companies that have trusted us with their telephony needs.
Contact us and we'll do our best to make you another satisfied customer.